Hannu Pro provides real-time analysis and visualization solution
for TV programme Hattrick!

With the support of Hannu Pro the popular 360 TV sports programme Hattrick, now have a great opportunity to test impressive RT Software's tOG-Sports solution developed for easy sports program analysis and visualization. tOG-Sports is great for or any application or budget and is widely used throughout the world enhancing various TV programmes by adding augmented reality graphic to the video.
tOG-Sports integrates into industry standard re-play servers and can be operated utilising touch-screen monitors letting the presenter take full control of graphics matching (offsides, free kicks, countdown timers), detailed analysis, augmented reality storytelling, visual advertising. tOG-Sports together with appropriately chosen hardware platform is great added value for all sports programs produced in studio, truck or flyaway use.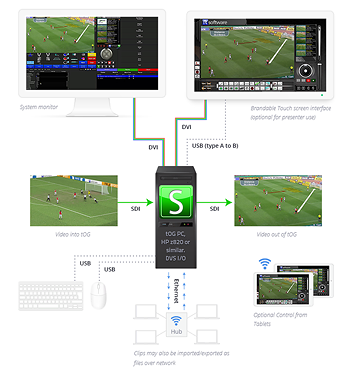 tOG-Sports workflow diagram



Watch tOG-Sports Hattrick demonstation video!

For further information about interactive program visualisation solutions rental, please,
contact your Hannu Pro representative