Unitek's Megascreen now in Latvia!


As a result of a successful cooperation between Hannu Pro engineers and Unitek and Video Centrs, a video wall for showcasing large public events is now available in Latvia. Unitek, one of the leading manufacturers of giant video screens in the UK, was founded in 1982. Unitek products are widely used in public places where large visual displays are needed. Unitek's Megascreen modular system has been used in the most prestigious entertainment and sports events throughout the world: Michael Jackson Concert Tour; World Cup Football; Formula 1 (F1) Grand Prix; Grand Slam Tennis, and many others. With over 600 m² in the market place, Megascreen has already proven its versatility and confirmed its quality to hundreds of audiences world wide.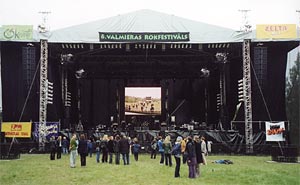 The Valmiera 6-th rock festival
(Video wall installation and tests)


The technically sophisticated 4m X 5m Megascreen LED video wall is unique in Latvia and the Baltic States. Pixel pitch (distance between LED dots) of this 25 module, computer operated, video wall is only 17.0 mm showing one of best definition results for outdoor screens in the world. Another important parameter for handling and installation is the light weight of these modules. A Megascreen video wall features superior optical performance, reliability and ease of operation.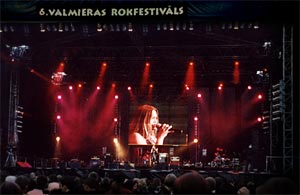 The Valmiera 6-th rock festival
(Evening show - Linda Leen)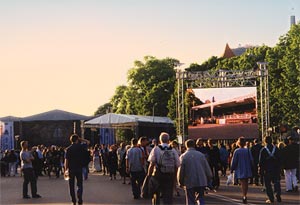 Hansa Days in Riga
(Preparation for main show)


Mr. Guntis Gross, the director of Video Centrs - a company which rents high end video projection equipment - endorses the high quality of Megascreen and its ability to provide excellent optical performance in sunlight. Megascreen has already proved to be the best in Latvia during several recent large events. These include the 6th Valmiera rock festival, LMT's (major Latvian mobile phone operator) hot air balloon festival in Cesis, as well as Hansa Days in Riga, where, thanks to video wall, many hundreds of spectators were able to follow the show from more than 200 m away. These are just the first showcases for Megascreen. All participants at these events appreciated the capability of a large video wall to deliver high contrast images and excellent picture quality.

Megascreen has become an integral part of Latvian public events and performances and conforms to international standards for providing vision at such events. Hannu Pro engineers commented: "During all the entire time we worked on this project our preference was for future technologies. We selected and compared many products from different countries and we chose Megascreen as best solution to provide a world class video wall in Latvia."